EH-Micro Series

Product Brochure
microeh-overview-en.pdf
1870 Kbytes
Datasheet Micro-EH Series
data-micro-eh-en.pdf
749 Kbytes
User manual Micro-EH Series
manual-microeh-en.pdf
6060 Kbytes
The Micro-EH Series controllers are the new modular compact PLC which perform maximum power at minimum size. Various modules for flexible extension offer the possibility of fine-tuning the Micro-EH PLC to the required level of automation.
EH-150 Series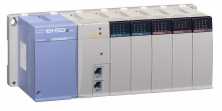 Product Brochure
EH150-overview-en.pdf
6430 Kbytes

Datasheet EH Series
data-EH150-en.pdf
822 Kbytes

User manual EH-150 Series
manual-EH150-en.pdf
6.94 MByte

Ethernet Card Information
EH-ETH-P3a-E.pdf
1535kb

High speed counter documentation for EH-CU/CUE for EH-150
Getting_Started_CU.pdf
76.97kb
Modular, low-cost micro PLC with outstanding communication features
The EH-150 Series is considered a true power pack. At the heart of this PLC is a 32 bit microprocessor, which enables the user to individually adapt the CPU and various I/O modules to a specific application. Various extensions allow the system to be expanded to 1024 I/Os. As part of a network, the extension potential is virtually limitless. Outstanding CPU performance features include: integrated PID-commands, floating point arithmetic, two serial interfaces as standard, one of which can be used as software-modem-interface. Flexibility and modularity of the EH-150 Series are enhanced by extensive network abilities, especially with regards open field bus systems. No matter whether food packaging machines need to be automated or high-speed controls of a production line: The Hitachi EH-150 Series PLC is "open" for any type of application.
EH RIO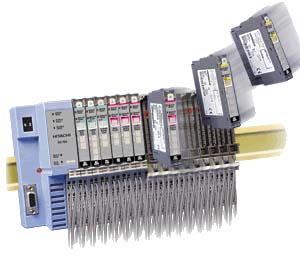 Overview of all Hitachi EH-RIO
EH-RIO-en.pdf
704 Kbytes
New Remote I/O modules for precise distribution of I/O and easy installation.
EH-RIO allow you to distribute the exact number of needed I/O in your application - right where they have to be, close to the sensors and actuators. This series is designed for users who place a high priority on cost efficiency. A highly granular, super-slim design; comfortable "no tools" handling, make for user-friendly maintenance. Just what you need to make your application a success!