Features
Smooth Rotation at Low Speed
Drastic reduction (-65%) of the cogging torque to the conventional motor by Advanced Motor Technology (Patent)

Suitable for high precision positioning tables or smart conveyor applications in which positioning without any vibration is necessary.
High Response
Speed control cut-off frequency 500Hz by a 32-bit system LSI with DSP, and high resolution by 17-bit serial encoder realize high precise positioning and stable rotation at low speed.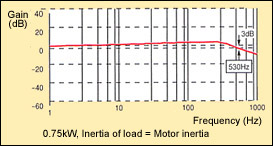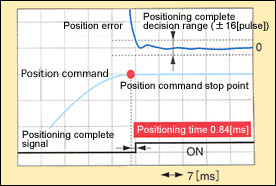 Minimum Deviation from Desired Position
Advanced positioning control reduces the position error to the minimum.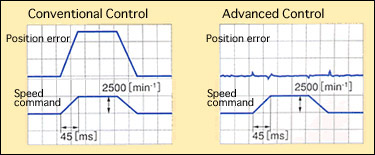 Compact size and light weight
Compact size & light weight is realized based on magnetic field analysis of the motor, contributing to downsizing of the system.
PLC Function
Programmable Sequence Control function is available with the drive as an option (ADAX Series). Positioning and speed control can be performed by basic-like language program.
Specifications of programmable logic functions